RESALE 4 KIDS


75 High St.

Danvers, MA. 0192
3



Located in the McDonald's Plaza!



978-777-3090


Lik

e us on

www.facebook.com




Now buying fall, winter,spring, summer clothing, all brands all sizes from newborn to big kids 10-12
Must be freshly laundered and folded and put in bags or bins.
No limit on the amount you can bring in.


Baby equipment, toys, DVDs, books, and most children's items!


Just drop it off and you will receive a call back from us in a few days with the amount of cash we can offer you.

For more info call 978-777-3090
Business hours:
Tues-Fri. 9:30-3:30 Sat. 9:30-3:00



WE HAVE A BEAUTIFUL PLAYROOM FILLED WITH KITCHENS,TRUCKS,DOLLS,
PUZZLES AND MORE.BRING THE KIDS IN FOR WORRY FREE SHOPPING!

NEW!! Frequent shoppers punch card club.Every time you spend $10.00 your card gets punched.Fill the card and receive 20% off your next purchase!

Foster parents 10% off purchase with ID.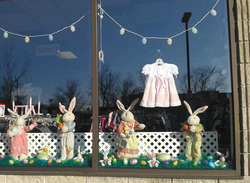 ---